Making a stand for animals – a new book by Oscar Horta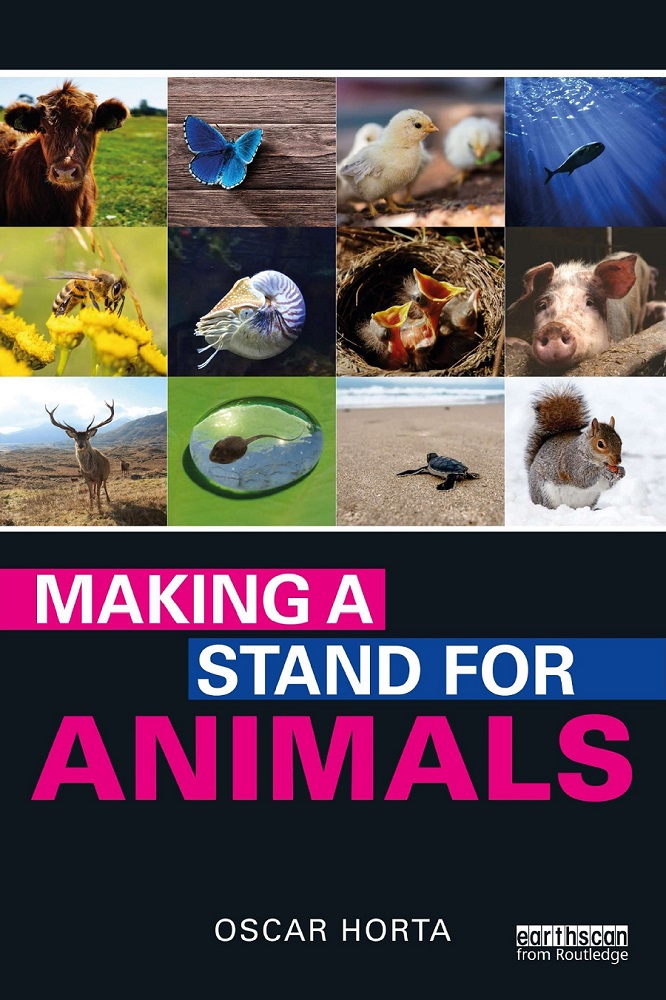 If you could only read a single book about animals, we recommend this one. Making a stand for animals is an introduction to animal ethics. It presents the reasons for respecting animals and supporting animal advocacy in a clear and engaging way.
While written in an accessible and enjoyable style, it is packed with arguments, information, and references. It also includes many illustrative stories, example scenarios, and thought experiments. It is not only an introduction to the issues, but it makes a clear case against speciesism and the exploitation of nonhuman animals, and explains why and how to make the transition to living without harming animals. In addition, it also deals with why helping wild animals and longtermism and effectiveness in animal activism are essential to the field. This is, as far as we know, the first book reaching people both inside and outside of academia to discuss how all of these ideas connect.
If you're already involved in animal advocacy or are interested in how we should act toward nonhuman animals, you'll find this book a useful source of ideas and information. It is also an ideal book to introduce these issues to someone who is not yet familiar with them. In both cases, we recommend this book as essential reading!
Get it at a discount, and support Animal Ethics at the same time
If you are in the United States, you can receive a free copy of the book if you make a donation to Animal Ethics of $20 USD or more. Just email us at donations(at)animal-ethics.org and send us your mailing address and the date and amount of your donation.
If you're not in North America, you can get the book at a reduced price. Use the code MSFA20 to get a 20% discount on Routledge's website. Note that shipping for the book is free.
The book is also available in Spanish, and is currently being translated into other languages as well.
The author
The author of the book, Oscar Horta, is a long-time animal activist who has been involved in antispeciesist and vegan advocacy since the early 1990s, and is one of the co-founders of Animal Ethics. In addition, he is a moral philosopher at the University of Santiago de Compostela, and the author of more than a hundred academic publications on this and other topics in different languages. He is particularly known for his work on the concept of speciesism, as well as on the moral consideration of wild animals.
A quote from the book
The following is a quote from the book to give you a taste of some of its contents. It's from a thought experiment presented in chapter 4, which discusses our current attitudes toward the animals we harm.
"The red button
Imagine that you live in a world in which there are many red buttons all around. These buttons are everywhere, and they can be pressed by anyone at any time. Each time you press one, two things happen: an animal, or sev­eral animals, suffers terribly and dies, and you feel a pleasurable sensation.
Imagine that most people push these buttons quite often. In fact, many people push them several times a day. Imagine that you too have pressed them many times, and have done so for as long as you can re­member, even though you know there are some who refuse to do so. It turns out that it's possible to get a similar sensation to the one you ob­tain by pushing the red buttons by pushing blue buttons instead. These, when pressed, cause a pleasurable sensation very similar to that caused by the red buttons, but they do not cause any animals to suffer or die. However, those who press the red buttons say that the sensation caused by the blue ones, although pleasant, is not really the same as the one produced by the red buttons.
What can we make of a situation like this? Would it be OK to push the red buttons?"
Reviews
"Clearly written, powerfully argued and thoroughly researched", "it launches a major challenge to the current speciesist paradigm"
Paola Cavalieri, editor of The Great Ape Project and author of The animal question and The death of the animal
"A powerfully written and easily read book"
Lu Shegay, Managing Director of the Institute of Animal Law of Asia
"Excellently argued", "a must-read for anyone interested in the question of what we owe to animals"
Angela Martin, University of Basel, Switzerland
"Creative, inspirational, and well-formulated"
Steve Sapontzis, professor emeritus, California State University,USA, and author of Morals, Reason, and Animals
"An inspiring and ideal book to recommend", "definitely, a book not to be missed!"
Alexandra Navarro, from the National University of La Plata, Argentina and Director of the Latin American Institute of Critical Animal Studies
"Convincingly lucid and accessible", "an interesting and compelling read that rejuvenates the pursuit of hope for nonhuman animals"
Adewale O. Owoseni, University of Ibadan, Nigeria
"The animal rights movement needs this book", "the first book of its kind to seriously discuss the incredibly important problem of wild animal suffering"
Kyle Johannsen, Trent University, Canada, and author of Wild animal ethics
"Highly recommended", "aims to inspire real-life change towards a better world"
Jens Tuider, the International Director of ProVeg
"A stimulating and illuminating introduction to animal ethics", "highly accessible and engaging reading"
Núria Almirón, from the Universitat Pompeu Fabra, Spain
"Horta's writing combines the logic of a professional philosopher with the engaging style of a work of fiction. His arguments are lucid and compelling"
Steven P. McCulloch, from the University of Winchester, UK
"With a clear writing style, logical structure and plenty of useful citations", "this book will introduce and inspire a wide range of new readers to this important subject"
Jeanette Rowley, Founder of the International Vegan Rights Alliance